PRP hair treatment
Concerns that PRP hair treatment® helps with in Kalina :
WHAT IS PRP hair treatment?
PRP (Platelet-Rich Plasma) treatment is a non-surgical, medical treatment that uses the patient's own blood to promote hair growth. The procedure involves taking a sample of the patient's blood, which is then processed to separate out the platelet-rich plasma. The PRP is then injected or applied topically to the area of the scalp where hair growth is desired.
The platelets in PRP contain growth factors that can promote healing and cell growth. When the PRP is injected into the scalp, it is thought to stimulate the hair follicles, causing them to enter into a growth phase. The treatment is sometimes done in combination with other hair loss treatments, such as hair transplant surgery. PRP treatment is considered to be safe and well-tolerated, with minimal side effects. It can take several months to see results from the treatment, and multiple sessions may be needed to achieve the desired outcome. It's important to keep in mind that while PRP is considered to be an effective treatment option for hair loss, research on the treatment is ongoing. Results do vary and it is not the correct choice of treatment for all types and stages of hair loss. This is why you should consult a good dermatologist before choosing to go ahead with this treatment.
HOW DOES PRP hair treatment help with Hair loss?
Platelet rich plasma therapy involves the use of platelets and growth factors from your own blood to help hair follicles that are inactive to move back into the growth phase. Your blood is drawn in a syringe and then centrifuged. This process helps extract plasma that is rich in platelets and growth factors. The plasma is then loaded in a syringe and injected into target areas of the scalp. Unlike a hair transplant, there is no addition of follicles in the target area in PRP. It helps in reactivation of dormant hair follicles. PRP treatment is not ideal for: Late stage baldness or Complete baldness. It works best on: Early stages of hair thinning in both men and women. It Works on hereditary as well as traction alopecia as long as they are not late stage. PRP is not a substitute for hair transplantation. It is ideal for hair regrowth in cases where people haven't reached a stage where they necessarily need a hair transplant. It works for both men and women. However, a single session will not provide desired results. You will need multiple sessions.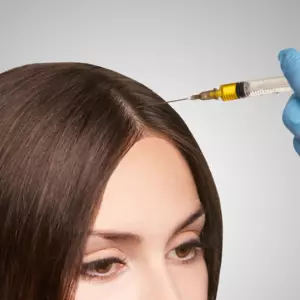 HOW EFFECTIVE IS PRP hair treatment FOR Hair loss?
PRP is quite effective for early stages of hair loss with live but dormant hair follicles are still present. For advanced hair loss, transplants are the suggested line of treatment.
Below are some before and after pictures to visualize the effectiveness of the PRP hair treatment treatment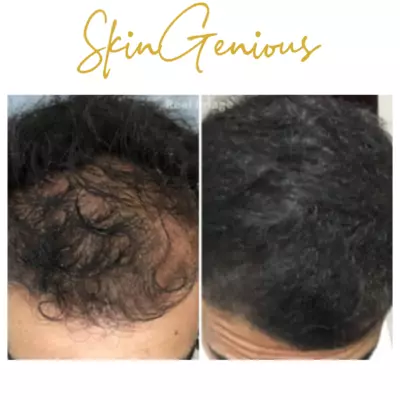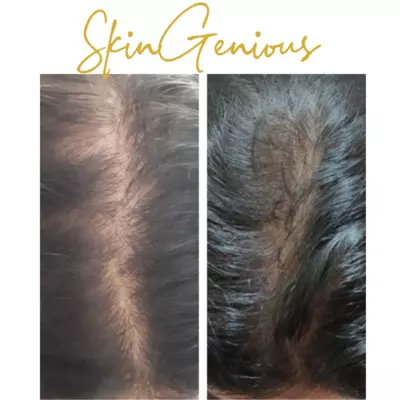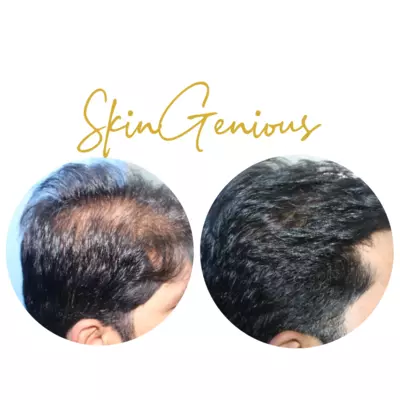 WHAT IS THE COST OF PRP hair treatment TREATMENT IN Kalina?
Indicative Pricing for PRP hair treatment in Kalina, Mumbai at SkinGenious Clinics
| Target Area | Price |
| --- | --- |
| PRP hair treatment | Rs. 5000 |
| PRP with growth factor concentrates | Rs. 8000 |
PRP hair treatment Treatment at SkinGenious, Kalina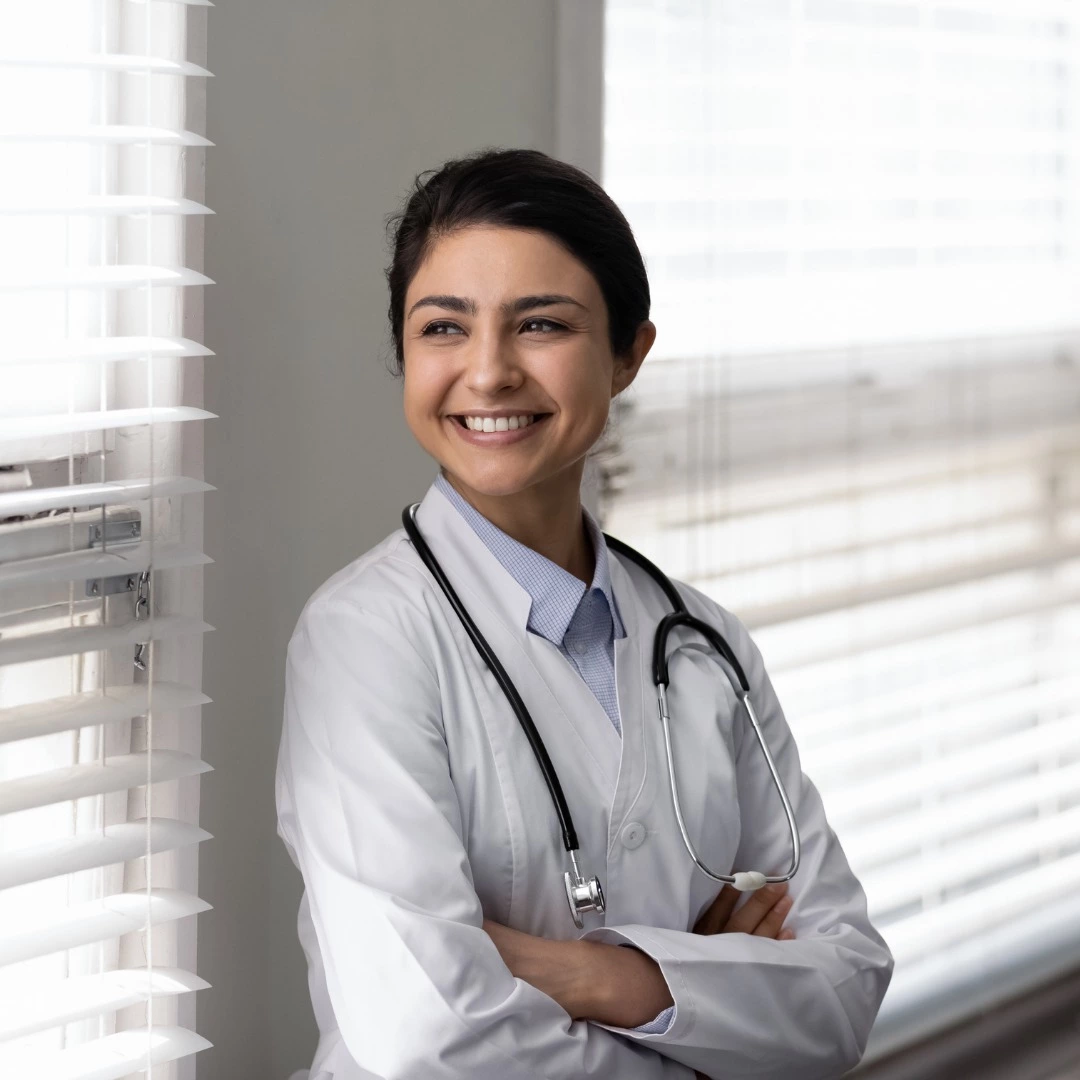 The top specialists for PRP hair treatment treatment
At SkinGenious, your providers are all verified for the treatment being offered and have experience at the highest levels. They are also assessed for result delivery.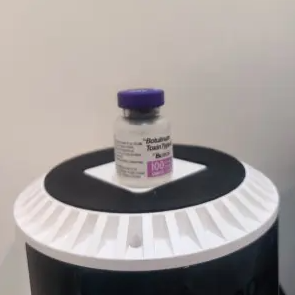 Highest quality products
Our partner specialists only use the top quality products and brands and do not compromise on quality of care.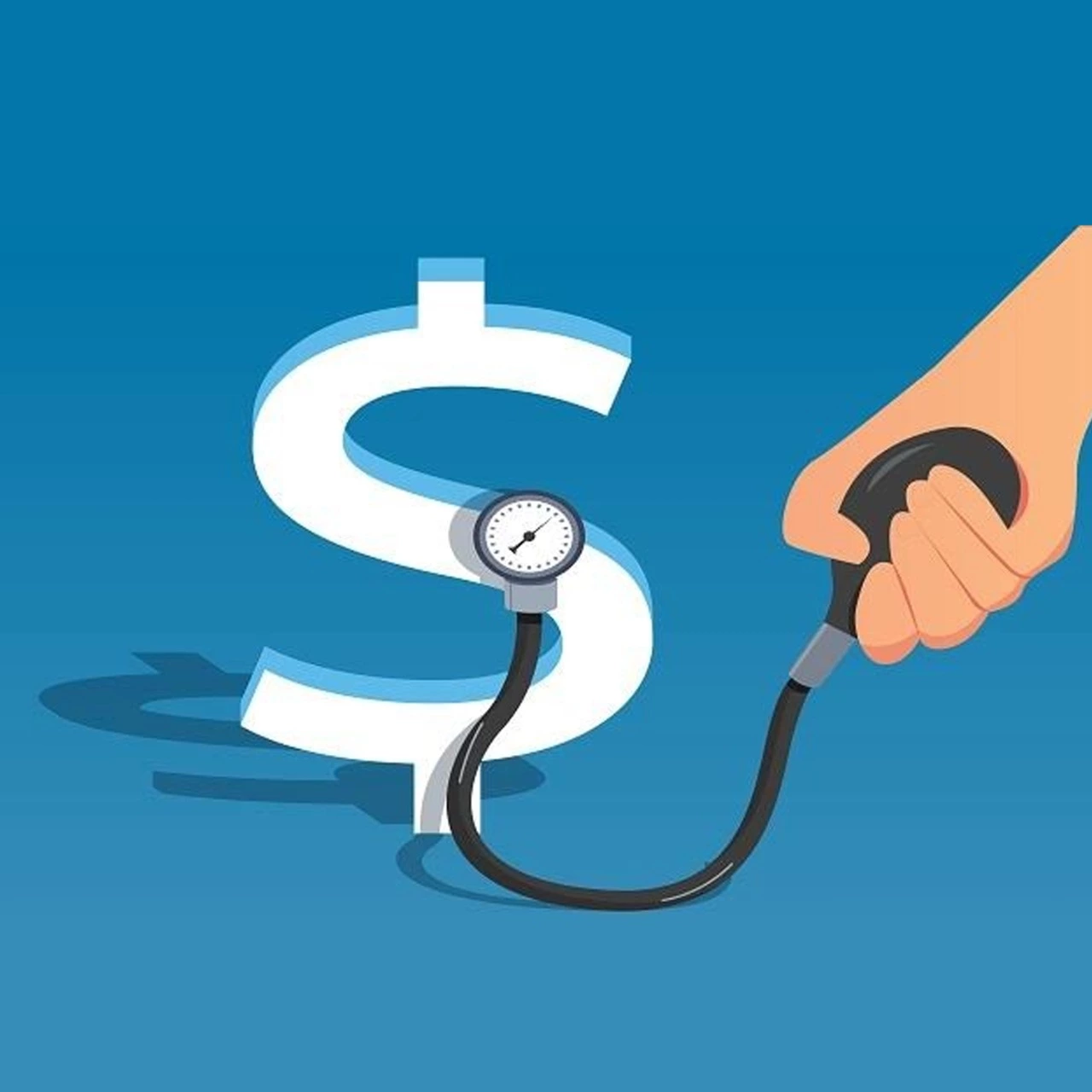 Transparent pricing
We guarantee transparency in prices which ensures that you only pay what you are supposed to. Not a penny more.
Leading dermatologists and plastic surgeons.
Hand picked, verified and trusted dermatologists and plastic surgeons. You have right to consult only the best
What is the Procedure for PRP hair treatment treatment ?
Know about the treatment procedure with all the major steps involved in PRP hair treatment treatment.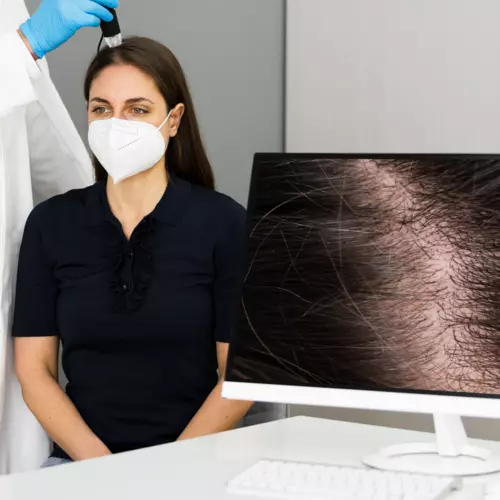 Hair consultation
The first step at SkinGenious is always to meet one of the top dermatologists of the city. A dermatologist is also an expert for hair concerns and they will examine you along with taking requisite history.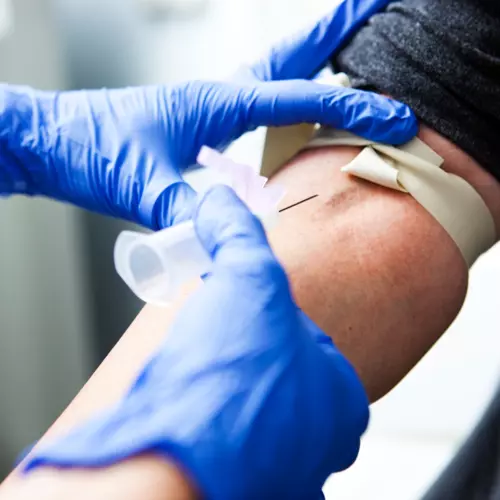 Drawing blood
PRP involves the use of growth factors from your own blood. The blood therefore needs to be drawn to later use the growth factors.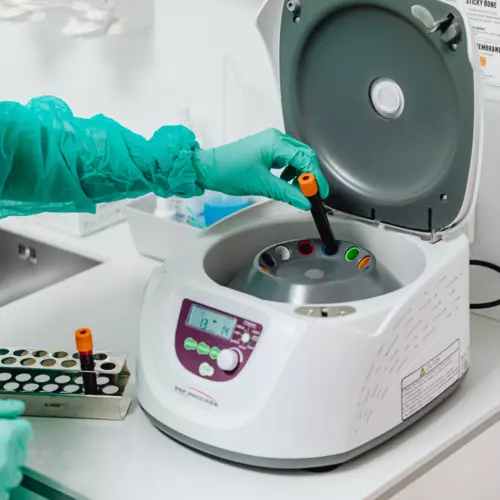 Centrifuge
To separate the plasma with the growth factors from the rest of the components of the blood, it is centrifuged in a dedicated machine.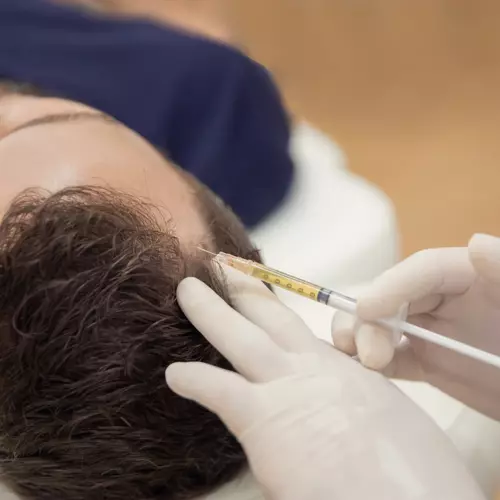 Injection of platelet rich plasma
The last step is to inject the desired growth factors in the scalp. The targeted placement of these growth factors is what helps promote the re-growth of hair.
HOW EFFECTIVE IS PRP hair treatment for Hair loss
What results can you expect from PRP hair treatment treatment? What factors that impact the efficacy of PRP hair treatment?
When you visit the clinic, you can expect to start your PRP on the same day as your first visit, right after the consultation. The treatment steps are as mentioned in a previous section. The total time taken at the clinic for a session is usually 60-90 minutes.
In terms of results, the expectations from the treatment vary widely. Some patients begin to see results within a few weeks of starting their treatments whereas others may take a few months. What is however consistent is that most patients will need multiple sessions to see desired results. These sessions are usually repeated with an interval of 3-4 weeks.
Once the treatment is done, you can carry on with all regular activities in the day. You may expected some soreness at the injection sites on the day of the treatment. The injections can be slightly painful, which is why numbing cream will also be used in many cases.
RISKS & SIDE EFFECTS for PRP hair treatment
At SkinGenious , we only use treatments which have been assessed & approved by top regulators in India & across the world. Also our doctors make sure that any risks / side effects associated with the PRP hair treatment is clearly communicated beforehand.
PRP hair treatment is generally considered to be safe and well-tolerated, with minimal side effects. However, certain risks are potentially present, such as:
Pain or discomfort: Some patients may experience pain or discomfort at the injection sites, but this can usually be managed with over-the-counter pain medication.

Swelling: Some patients may experience swelling at the injection sites, but this is usually mild and goes away within a day or two.

Bruising: Some patients may experience bruising at the injection sites, but this is usually mild and goes away within a week.

Infection: There is a very small risk of infection at the injection sites, but this can be prevented by taking antibiotics as prescribed by your dermatologist.

Limited effectiveness: There is no guarantee that PRP treatment will work for everyone and each person's hair growth journey is different.
PREPARING FOR PRP hair treatment :CHECK-LIST
Make sure that you know about the pre-treatment ''Dos And Don'ts'' for the PRP hair treatment. Ask your doctor for the preparation checklist if available.
A comprehensive yet short checklist you can follow during your visit for PRP is shared below. Your dermatologist will take you through all of these themselves at a SkinGenious clinic, but you can be prepared with the below from your side as well:
Clearly discuss your expectations: make sure to understand the kind of results possible and based on your examination and history, what the doctor feels the outcome would be for you.

Understand the risks: Although minimal, you would definitely want to go through all the potential risks and the steps you can take to minimize them.

Platelet count: In some cases, the dermatologist might ask for a platelet count to ensure it is sufficient to expect good results.

After-care: Understand the steps you need to take to ensure maximum benefit.
AFTER-CARE for PRP hair treatment
For better results our expert will suggest some after treatment care which need to be followed properly.
Some steps you can take to minimize the risk and maximize potential benefits include:
Avoid any strenuous excercise on the day of your treatment

Avoid using any hot styling products such as a curler or straightener for 2-3 days

Avoid scratching and reduce the risk of infection

Use a cap or a hat to prevent direct sun exposure at the site of infection

Use any medication prescribed by your dermatologist

Take care of ancillary factors such as maintaining the recommended diet and drinking the requisite amount of water.
OTHER Hair loss TREATMENTS by SkinGenious , Kalina
Other Than PRP hair treatment treatment, you can rely on us to provide the best treatment in Kalina, Mumbai for Hair loss
FAQS FOR PRP HAIR TREATMENT TREATMENT IN KALINA
Common Questions you might have about PRP hair treatment & other treatments for Hair loss Or regarding PRP hair treatment treatment by SkinGenious in Kalina
Is PRP hair treatment the best treatment for Hair loss ?
Every treatment has its pros & cons including PRP hair treatment treatment. The Right treatment choice depends on the extent of Hair loss and multiple other factors. Our PRP hair treatment Experts at SkinGenious, Kalina can help you choose the best proceedure for Hair loss or any other related concern
Is PRP hair treatment Treatment Effective for treatment of Hair loss ?
The results for PRP hair treatment treatments may vary depending on multiple factors.We at SkinGenious, Kalina have top Hair loss experts equipped with the best in class technologies to deliver remarkable results.
What is the cost of PRP hair treatment treatment in Kalina, Mumbai
We at SkinGenious,Kalina have a very transparent pricing policy . The full price details are shared at the very start of treatment. You can find the indicative pricing for Hair loss treatments above . The prices vary for different cities , do check our Mumbai city page for prices of Hair loss treatments in your city.
Who is the best PRP hair treatment specialist Near Me in Mumbai?
The PRP hair treatment Specialists are generally Dermatologists with speciality or expertise in Hair loss treatments. We at SkinGenious,Mumbai make sure that you are treated by experts with best knowldege and skills in the required category. At SkinGenious you can be sure of being treated by the best in their fields.
How to find PRP hair treatment treatment center near me in Kalina, Mumbai?
SkinGenious has multiple state of art clinics Near Mumbai for PRP hair treatment treatment , you can check the location of our clinics above or call us to connect with the nearest PRP hair treatment Treatment center from you.
What are the risks for PRP hair treatment treatment ?
All The treatments for Hair loss or other related concerns provided at SkinGenious, Kalina are cleared by FDA/ other top regulators of in India. Clearance is given after thorough assessment for risk / benefits of any treatment. You can read about the risks associated with PRP hair treatment treatment above and also discuss the same with our expert in Mumbai.
GO TO...