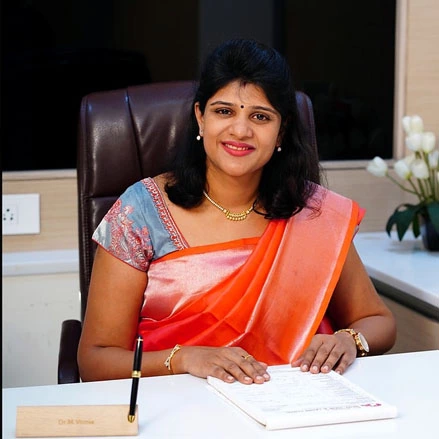 DR. VIMALA MANNE
Nearby Areas Serviced:
ABOUT DR. VIMALA MANNE
Dr. Vimala Manne presently runs her Dr . Vimala's skin, hair and laser clinics in Hyderabad & has 19 years of experience in Dermatology ..She is a Professor at VRK women's medical college & Teaching Hospital.She was a Senior cosmetic dermatologist at Oliva Advanced Skin And Hair Clinics for 6 years. She did M.B.B.S graduation in Gandhi Medical College and M.D. Dermatology post graduation in Osmania Medical college.After a short spell at St.John's Hospital , Bangalore ; she worked as a consultant at Kaya skin clinic and Care Hospital , Hyderabad.She was a medical head of Labelle chain of Medispas. Dr.Vimala Manne's special interest lies in the Management of Hirsutism, Female patterned Hair loss, Hormonal Acne & Cosmetic procedures like Chemical peels,Lasers & Platelet Rich Plasma Treatment, Non-surgical facelift ,Thread Lift ,Anti- aging treatment –botox, fillers. She has given numerous talks on her core topics of interest in India, Korea & Chicago
EDUCATION & EXPERIENCE
| Degree | College | Year |
| --- | --- | --- |
| M.B.B.S | Gandhi Medical College | 1998 |
| M.D (Dermatology) | Osmania Medical College | 2007 |
| Previous role | Organization | Years |
| --- | --- | --- |
| Consultant | Kaya Skin Clinic | 2007 - 2009 |
| Senior dermatologist & trainer | Oliva Skin Clinics | 2009 - 2016 |
| Medical Head | Labelle Medispas | 2016 - 2017 |
Achievements :
Associations : IADVL, Telangana Medical Council
CURRENT PRACTICE
The top skin clinic of Mehdipatnam, with a luxurious environment and convenient location
TREATMENTS OFFERED
The latest technology in the hands of the top experts. Just what the doctor ordered.
CONCERNS DR. VIMALA MANNE HELPS YOU RESOLVE
Being healthy also means that you look your best, always. Healthy skin&hair is the most visible sign of over all health. Solutions are available for:
PREFERRED HAIR & SKIN CARE TECHNOLOGIES
Learn more about the technologies that enable Dr. Vimala Manne to deliver superlative results
TRUST MATTERS. WE DON'T TAKE IT EASY
OUR SPECIALISTS AND TEAMS STRIVE HARD TO PROVIDE AN AMAZING EXPERIENCE ALONG WITH OUT OF THE WORLD RESULTS.
FAQS
Common questions we get asked.
Is a dermatologist the same as a skin specialist?
Yes, a dermatologist is a skin specialist doctor. They also treat problems of the hair, nails, aging and cosmetology.
LATEST BLOGS
The top specialists of India share about skin, hair, technology and more.
GO TO...