You can read more about laser treatment of acne scars here. You can view multiple before and after pictures as well as see the detailed price table on the link.
Q-switch Nd:YAG laser skin treatment: For pigmentation
With this technology, the laser is made to produce a pulsed output beam. This is done because the pulsed beam delivers much higher levels of energy than a continuous wave would. The technology used takes the help of passive Q-switching.
The gain material used is a variant of Neodymium (which gets the Nd in the name). The most commonly used wavelengths of light fall in the infrared range.
It is the gold standard laser used in the treatment of pigmentary problems. This is because it has the ability to target narrow bandwidths of wavelengths and hence target pigments of a specific color range.
It is hence used to target pigmentary problems include those such as melasma. If you have patches of skin that are darker than surrounding areas, this is the laser skin treatment that you are looking for.
Apart from treating pigmentation, this laser skin treatment also helps in:
Tightening of open pores

Removal of permanent tattoos (again due to its ability to target pigment molecules)

Rejuvenating facials such as the carbon laser facial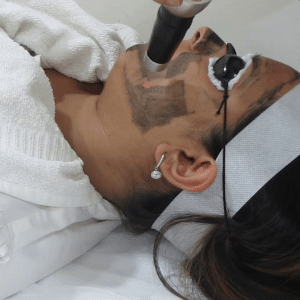 Cost in Mumbai:
A single full-face session for this laser treatment will cost ₹3500. However, a single session may not give satisfactory results. A package of 3-4 sessions may be required and the package price would again help you bring down the per session cost by 20%
Alternate options:
The best alternative for pigmentation treatment would be chemical peels. These are mostly acidic chemical agents that help remove a layer of skin thereby helping in reversion of pigment. The major disadvantage with chemical peels is that they act superficially whereas the laser skin treatment also works on deeper pigmentation. The laser treatment is therefore considered the gold standard.
With its action on tattoo removal, there is no other alternate apart from surgery.
Your take-away:
The Q-switch laser is one of the best treatments to tackle deep pigmentation and is the only option for non-surgical tattoo removal
You can read all about hyperpigmentation treatment in Mumbai by clicking the link and also see a before and after picture as well as detailed price table.
Conclusion
There are a myriad of laser treatments available with indications of use in dermatology. What you need to be sure of is that you are getting treated by cutting edge technology and the prices being charged are reasonable and ethical. Also, the best of machines will not be as effective as they can, unless handled and guided by a great dermatologist.
At SkinGenious, you will receive the best of both worlds, a top dermatologist along with the latest technology.